Home > Why Hashimoto Appraisal

Why Hashimoto Appraisal?
Since the foundation, our company has had its base in Osaka and has had a number of achievements in the western Japan area around Osaka, Kyoto, and Kobe.
In Japan, the majority of investment in real estate is concentrated in the capital city of Tokyo.
If you look at the English websites of other real estate brokers, you will quickly notice that their headquarters or main sales offices are all located in Tokyo.
It is true that in comparison with Tokyo, investment in real estate in Osaka, Kyoto, and Kobe may have fewer merits.
However, as the second largest economic zone, the Osaka-Kyoto-Kobe region inevitably has real estate for investment.
Until Tokyo became the center of Japan in 1868, the area centered around Osaka, Kyoto, and Kobe was the central region of Japan. This is especially true for Kyoto, which was the capital of Japan for more than 1,000 years since 794.
As a result, these cities, which have many indigenous customs, etc. based on history and tradition, have many pricing factors that can only be understood by companies that have been involved in local real estate appraisal for many years.
Our company can accurately analyze and investigate various factors that cannot large companies based in Tokyo are unaware of.
In terms of scale of business, our company may not be able to win against the large companies, but we can absolutely beat any large company in terms of our familiarity of the western Japan region (Osaka, Kyoto, and Kobe).
Of course, our support is not limited to only these cities, but extends to all Japan.
Message From President
Since 1989 until the present, I have been engaged in real estate appraisal and real estate brokerage without rest.
I have been involved in investment involving many desirable assets such as expensive assets that exist in prime locations in city centers, assets that have been built up over a lifetime, and inherited ancestral assets, and have also received numerous requests for appraisal and intermediation from many investors and companies from various fields concerning a wide variety of real estate assets.
I have conducted all of my business dealings with the mottos of "sincerity," "faithfulness," and "peace of mind."
Moreover, I will continue to perform real estate appraisal and real estate brokerage without forgetting our principles of "sincerity," "faithfulness," and "peace of mind."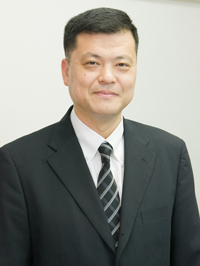 President&CEO  Kazushi Hashimoto